Cops and lawyers to the rescue
Four new home-grown TV series are about to screen and the law's the common theme, writes Amanda Meade
---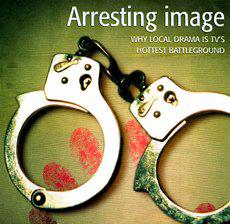 Win some, lose some
FOR every action there is an equal and opposite reaction and TV is no exception. For every Blue Heelers there's an Above the Law, for every Prisoner there's a Punishment. Yes, before Young Lions, White Collar Blue et al there was a host of weekly Australian dramas; some were seminal, others were semolina.
THE HITS
Blue Heelers (1994-present, Seven)
Life in Australia's most crime-ridden small country town is still reeling in the viewers in this consistently well-rating drama.
A Country Practice (1981-93, Seven)
One of the most beloved soapie/drama combinations, not only did it feature the original Fatso the wombat but Molly's Death in 1985 traumatised the nation. Ten buying the rights and changing it to a medical centre in 1994 was most definitely a miss.
Division 4 (1969-75, Nine)
The last of Crawford Productions' troika of 1960s police dramas (as well as Hunter and Homicide). Gerard Kennedy was the man.
The Flying Doctors (1986-91, Nine)
Spun off from a 1985 miniseries; this outback medical drama even survived a guest appearance from Uncanny X-Man singer Brian Mannix. The less said about RFDS, the 1993 attempt to recreate the concept for a younger audience, the better.
GP (1989-96, ABC)
One of Sue Masters' ABC successes, this was an urban A Country Practice for older viewers and won human rights awards for its portrayal of a 5-year-old with AIDS in 1989.
Homicide (1964-76, Seven)
The seminal and long-running police drama which proved Australian audiences wanted local drama. You can't hear the letters VKG without being struck by an urge to get dramatically out of a car.
Police Rescue (1990-96, ABC)
Spin off from a telemovie, this series made Gary Sweet the heart-throb du jour and even spawned a very average big-screen outing in 1994.
Prisoner (1979-86, Ten)
Cult series about women in prison, it inspired a stage play in Britain, where it was known as Cell Block H.
SeaChange (1998-2000, ABC)
Quirky series about a city lawyer who becomes the magistrate in a small seaside town. Was popular with both the Logie and AFI crowd.
Wildside (1997-1999, ABC)
Gritty crime drama starring Tony Martin, which despite critical acclaim, proved too costly to keep.
THE MISSES
Above the Law (2000, Ten)
Like Chances with no nudity, this lame drama-soap about a crime boss's daughter living in an apartment above a police station was painful.
Bony (1991, Seven)
Cameron Daddo is not an Aborigine but he knew some people who were, which made him an ideal tracker. Despite efforts to make this not look racist, it was an unavoidable conclusion.
Possession (1985, Nine)
One of two unsuccessful attempts by Nine to create a local Dallas/Dynasty primetime soap. Featured Anne "Madge from Neighbours" Charleson.
Punishment (1981, Ten)
Imagine a male Prisoner with Barry Crocker as the governor. Ten deemed it a failure after three episodes.
Secrets (1993, ABC)
Drama about a secret government agency called The Firm. At least star Rachel Griffiths has gone on to make better television.
Skirts (1990, Seven)
Tracey Mann led the cast of mostly female cops in this soap/police drama, but Seven putting it up against 60 Minutes sounded the death knell.
Taurus Rising (1982)
Nine's other Dynasty-esque soap showed spending $4.5 million on a TV series doesn't necessarily make it watchable.
Waterloo Station (1983, Nine)
A competitor for A Country Practice in timeslot and Cop Shop in theme, this police drama lasted three months.
Kerrie Murphy
---
Australia's favourite dramas
Program & network Ave. audience
1
E.R.
(Nine) 1,60 1,480
2
All Saints
(Seven) 1,506,448
3
Blue Heelers
(Seven) 1,418,862
4
CSI
(Nine) 1,327,068
5
McLeod's Daughters
(Nine) 1,316,641
6
The Bill (Sat.)
(ABC) 1,276,970
7
Alias
(Seven) 1,234,345
8
The Guardian
(Ten) 1,229,167
9
Always Greener
(Seven) 1,223,402
10
Home and Away
(Seven) 1,213,420
11
The Secret Life of Us
(Ten) 1,167,690
12
JAG
(Seven) 1,158,479
13
Judging Amy
(Nine) 1,149,583
14
The Bill (Tues.)
(ABC) 1,129,367
15
Charmed
(Ten) 1,067,472
Source: Oz TAM; 2002 ratings year-to-date
What's on now
Prime-time dramas: the current slate
ABC: None
Seven: All Saints (Tuesday, 8.30pm), Blue Heelers (Wednesday, 8.30pm), Always Greener (returning soon)
Nine: Stingers (Tuesday, 9.30pm), McLeod's Daughters (Wednesday, 7.30pm)
Ten: The Secret Life of Us (Monday, 8.30pm)
---
WHEN the late Bruce Gyngell, the father of Australian television, was executive chairman of the Nine Network in the 1990s, he remarked: "We as Australians have a way of looking at life, and dealing with its vicissitudes, which is generally attractive. The outlook from the 'Gloria Soames' of Ramsay Street, is more humane and far closer to a desired 'reality' than that on offer in the California modem bungalow of Santa Barbara."
A decade on, Gyngell's thoughts on home-grown drama carry even more weight. Between now and August the four leading networks will each launch a new long-form, prime-time adult drama. It will take to 10 the number of weekly one-hour Australian dramas on air. This has never happened before.
The new series — Nine's Young Lions, Seven's Marshall Law; Ten's White Collar Blue and the ABC's MDA — all touch on crime and are aimed at capturing fresh audiences for their networks. All will be lavishly launched and promoted. All cost some $300,000 per episode. All will be competing for space. Some may last several series, some may sink after one.
"I think it's getting a bit critical in terms of viewer fatigue," says Seven's drama chief Jonathan Holmes, who has two of the current most successful dramas on his slate, All Saints and Blue Heelers. "Every time you launch a new drama you do ask an audience to dedicate a certain amount of their time and that time is finite. Will people say I'd like to but I can't duck in and visit that new show because I might get hooked. Will new shows fire up at the expense of old shows or will people avoid them?"
While drama is enjoying a renaissance, there is more than one nervous drama executive eagerly waiting for their allotted timeslot and for any news of the competition's plans. By the end of next month, they will all be examining the ratings progress. Did they debut at 2 million? Are they winning their timeslot? Will the beancounters allow their shows to grow?
---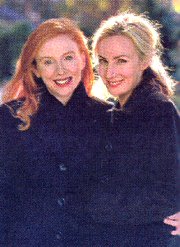 Marshall Law
Network: Seven
Producer: In-house Seven
Created by: Alison Nisselle
Stars: Lisa McCune, William McInnes, Alison Whyte, Jane Hall.
Genre: Light-hearted legal
Format: 17 x 1 hour, option for two more series
Set in: Melbourne city
Shot on: tape
Timeslot: Premieres in August, TBA but post-8.30pm
Competition: TBA
Overseas parters: No
---
Holmes: "Dramas have to find their legs. It happened with Blue Heelers, it happened with Water Rats. But the viewers are fairly unforgiving; if you don't deliver entertaining programming, they won't stick around just because they like the name."
To give it a kick along, the ABC's hot new property MDA has been scheduled off the back of The Bill, the ABC's highest rating program. "The strongest audience we have for ABC drama is The Bill and so for us it's the best, best possible chance we can ever give the Australian drama," says ABC head of drama Robyn Kershaw.
Seven's Marshall Law, hitting our screens next month, has as its selling point the extraordinary popularity of actor Lisa McCune, whose role in Blue Heelers won her a record six [sic] Gold Logies. 'It's a good one hour of fun," Holmes promises. "We're not trying to get weighty, perhaps like MDA might be. We're not dealing with murder and life and death. We're dealing with petty crime and sometimes emotional stuff; while trying to extract the fun out of it. Episode three is about oral sex." Marshall Law is a "cheeky" depiction of two sisters — McCune and Alison Whyte. McCune plays junior crown prosecutor Ros Marshall, who shares a house with her sister Verity Marshall, a barrister, played by Whyte.
Not since the golden era for Australian drama, the decade between 1976 and 1986, have we seen so much local fare on offer, and never before have we seen such a proliferation of one-hour serials. Back then, Ten spent heavily on its program budget and produced a swag of successful miniseries, including Water under the Bridge, The Dismissal, Waterfront, Return to Eden, Vietnam and Bodyline. On the other networks, series such as The Sullivans, The Restless Years, Prisoner, A Country Practice, Sons and Daughters and The Flying Doctors pulled in strong audiences. But it didn't last. Then in the late '80s, early '90s, Holmes says, there were 11 or 12 hours of two by one-hour dramas a week — including E Street and A Country Practice — and they started to "fall over".
Kershaw launched her first big project in Melbourne yesterday: MDA, starring Kerry Armstrong and Jason Donovan. It is set in the unfamiliar world of a medico-legal organisation which defends doctors, allowing for an exploration of the ethically complex relationships between doctors and patients. Armstrong plays Dr Ella Davis, a senior case manager at MDA. Opposite her is Donovan, playing crusading lawyer Richard Savage, a specialist in medical litigation. The two are highly competitive and always on opposite sides.
"MDA is the contemporary drama [director of television] Sandra Levy and I were looking for in terms of being able to explore the dimensions between the personal and the professional," Kershaw says. "I think it's a tremendous thing for Australian audiences to have such a diversity of Australian stories. I can't remember when there was such a rush of work from all the networks at the same time. Audiences really respond strongly to stories that are about their lives, their experiences, their situations."
Kershaw's predecessor at the ABC, the highly respected Sue Masters is now head of drama at Ten. She is characteristically generous in her assessment of the landscape. "I don't recall a time when there have been as many new shows launching within a couple of months of each other. But as a champion of Australian drama, I believe well-scripted drama, if it touches a chord in audiences, will work. I believe all of them will have an audience."
While at the ABC, Masters brought us, among others, SeaChange, the ABC's most successful show and one of the highest rating dramas in Australian TV history. At Ten, she is ushering in a new era of local production at a network once almost solely dedicated to US material. Her latest project is White Collar Blue, a police drama set on Sydney's northern beaches, beautifully shot on film. Masters says SeaChange — and Ten's The Secret Life of Us — were breakaways in terms of their genres; not the traditional medical, legal or police drama. But she is confident there is always room for another cop show.
"It doesn't concern me that there are two police series out there because I know they will be incredibly different and they will be well written and well produced," she says. "I believe that police series are an indirect way of telling stories about our world, and similarly with MDA, which is medical legal and with Seven's Marshall Law, I know it's been in development for years and years and will have to be sensational."
Of the four new shows, two are police, one is legal and one is medico-legal. This adds to the two police and one medical drama already on air — "I don't think it's by coincidence," Masters says. "The dramatic stakes that are offered by series that involve medical practices or crime are high."
White Collar Blue, which is yet to be scheduled by programmer David Mott, is described by Masters as a forensic, compelling, emotional drama. "White Collar Blue has a lot more air in it than other police shows," she says. "It isn't an inner-city environment".
Creator/producer Steve Knapman says if it was a US show it would be set in Hawaii. "It's a much more Pacific-based crime show than an urban, inner-city feel, so it feels bluer and whiter," Knapman says. "We get into the beach area and there's a lot more sunshine in the show than most of the crime shows around. Miami Vice and Hawaii Five-O are good touchstones but we hope we are a bit more original than that."
The look of White Collar Blue is quite a departure for Knapman, whose dark, jagged Wildside notched up 60 hours on the ABC in 1999 before being dropped. While it collected a swag of awards, glowing reviews and industry praise, the drama never quite captured an audience. "I think it alienated some viewers," he says. "We don't shout much in White Collar." (Wildside became the butt of jokes for the way the cast ad-libbed, repeated themselves and shouted at each other.) Like Nine's Young Lions, also a police drama, White Collar Blue's cast is young. Neighbours starlet Brooke Satchwell headlines alongside the more experienced Peter O'Brien, who, Masters says, "gets sexier with age".
---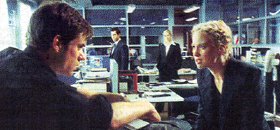 Young Lions
Network: Nine
Producer: Southern Star- Michael Jenkins
Created by: Michael Jenkins
Stars: Alex Dimitriades, Tom Long, Alexandra Davies, Anna Lise Phillips
Genre: Cops
Format: 22 x 1 hour
Set in: Inner-city Sydney
Shot on: Film
Timeslot: Premieres Wednesday, July 17 at 8.30pm
Competition: Blue Heelers on Seven at 8.30pm
Overseas parters: pre-sale to New Zealand
---
"They are young characters but in terms of the story-telling and audience satisfaction, it's a rattling good yarn. I think the story-telling has the sophistication of a Law & Order," she says. Masters says when Australian dramas strike a chord they work disproportionately well to what they cost and what imported series can do for a network. 'The opportunity to showcase directors and writers and actors is sensational."
Knapman says his aim was to make a very commercial but an authentic adult drama. "I wanted to prove you could make intelligent, adult drama, complex drama that is sophisticated and stylish and rates."
But Knapman is pessimistic about the future of the 10 dramas, given that they will all be on air at the same time. He says the plethora of dramas is "crazy" because we should be trying to [spread] them across the board. "But of course you have the rivalry between the networks and they are all lining up for the game," he says. "All I can say is that we've been running our own race for about 18 months for this show. Kris [Wylde, his co-creator] and I believe our vision is better than anyone else's — different and accessible."
Knapman, whose credits include The Leaving of Liverpool and Bordertown, says audiences have been conditioned over the years to enjoy local fare. "I grew up at a time, the 1960s, when there was no Australian drama on television. All we saw were American shows like Bonanza, The Twilight Zone and The Naked City. I remember the first Australian dramas I saw the walls would shake when people slammed the door. Now I think, people want to see their own stories, they want to see their own world."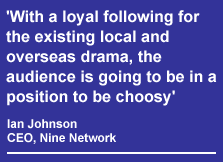 Nine chief executive Ian Johnson agrees with Knapman that some shows will suffer from the competition. He said at the launch of Young Lions last month: "We are launching Young Lions into the most competitive environment ever, with no fewer than four new drama series hitting the screens in the second half of the year. With a loyal following for the existing local and overseas drama, the audience is going to be in a position to be choosy. The show that breaks out will have to have a strong concept, great writing and a stellar cast." Johnson, of course, believes Young Lions is the show, as does Chapman of White Collar Blue.
Nine's head of drama Kris Noble also believes he has hit the magic formula with Young Lions and says it has the depth modem audiences are looking for. "It's not going to be cops and robbers and chases and explosions. it's a far more emotionally satisfying show."
---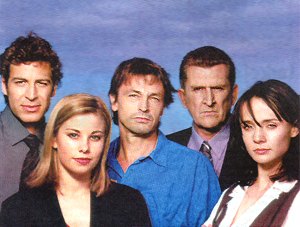 White Collar Blue
Network: Ten
Producer: Knapman/Wylde
Created by: Steve Knapman and Kris Wylde
Stars: Peter O'Brien, Brooke Satchwell, Freya Stafford, Richard Carter, Don Harry, Jodie Dry
Genre: Cops
Format: 22 x 1 hour
Set in: Sydney's southern suburbs and beaches
Shot on: film
Timeslot: Premieres in August, time TBA, but 8.30pm likely
Competition: TBA
Overseas parters: Carlton UK
---
Created by Michael Jenkins of Wildside fame, the show has some parallels with its predecessor. Set in inner-city Sydney, fast-moving and starring Alex Dimitriades as a detective, Young Lions has a similar edgy, urban feel. But it is not as dark or humourless as Wildside proved to be.
Noble was relieved by the "buzz" he felt the showreel had generated at its launch. "You put the same amount of energy into what you think might work as into what people might think is a failure, and then you wait and wait," he says. "It's a very competitive time. Something new has got to be unique and why would you stand out in a crowd?"
Is Noble worried about adding yet another cop show to the scene, never mind a second one to his own slate. "The packaging is a cop show, but there are episodes without a crime; we go different places every time," he says of Young Lions. "To put together a show and to have great characters you need an engine that's going to drive the show. Our engine is a bunch of young detectives in the modern world and the pressures they have to face day to day and the impact on them personally.
"It sounds like a drama cliche but we always make sure there is something driving the characters." In Young Lions, the dark good looks of Dimitriades provide just such an engine. As Detective Eddie Mercia, who lost his partner and lover in a shoot-out, Dimitriades is suitably short-tempered and tense. When he meets his new partner Donna Parry (Alexandra Davies) he is as dismissive as she is keen to make a friend.
Masters says her characters in White Collar Blue are also modern, complex people — not the squeaky clean cops of old. "We look for the opposite sides of our characters," she says. "They all have aspects which make them human, we explore those things over time to understand what makes them tick." But it's not all emotional angst — there is good, old-fashioned action in there too. "The bottom line is that each episode does have a crime, so they are self-contained," she says. "There is a whodunnit aspect to each show which is good and keeps you interested."
So with all these new dramas around, does the Australian Broadcasting Authority still need to enforce a drama quota on the commercial networks?
Holmes: "I understood the quota in the early days because it got things moving, but now I think the momentum is there. People love it. If you look at the ratings, the thing that does rate is Australian drama. It forced Channel 10 to make product. It made sure networks didn't rely on overseas product. Even Ten realised they needed local product."
---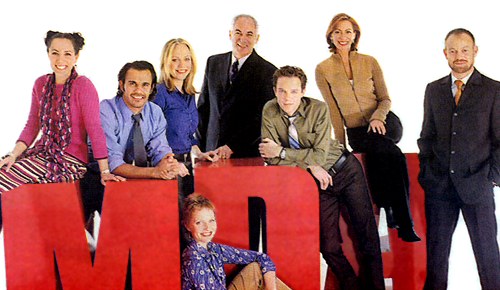 MDA (Medical Defence Australia)
Network: ABC
Producer: Screentime
Created by: Greg Haddrick and Des Monaghan
Stars: Kerry Armstrong, Jason Donovan, Shane Bourne, Alice McConnell
Genre: Medico/legal
Format: 22 x 1 hour
Set in: Melbourne
Shot on: tape
Timeslot: Premieres on Tuesday July 23 at 9.30pm
Competition: Stingers on Nine at 9.30pm
Overseas parters: No
---