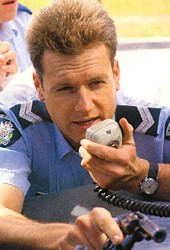 Nick Schultz – William McInnes
An imposing policeman at six-foot-four, Nick Schultz was known to lose his temper and self-control in difficult situations; on one occasion, he was accused of strangling a prisoner to death. He was surly and sarcastic, with a sometimes savage sense of humour (and so often got the best lines on the show). He eventually married Dr. Zoe Hamilton and transferred to Footscray police station.
* * * * *

First episode: 'A Woman's Place' (#1)
Last episode: Wedding Blues (#207)
Quotes on Nick:
"I'm the station bully." - Nick, 'Paranoia (Pt 2)' (#67)
"He has 15 weetbix for breakfast." - Adam, 'Double Jeopardy (Pt 2)' (#76)
"He's not fit to be in charge of a peepshow." - Keith Purvis, 'Mad Dogs and Englishmen' (#129)
"We'll make a Sergeant of you yet." - Monica Draper, 'Under Siege' (#130)
"You're never ever going to make it into diplomatic call, are you?" - Tom, 'Fool's Gold' (#141)
"Big bloke. Solid as a rock. Totally dependable ... doesn't let anyone get away with anything." - Tom, 'Random Breath' (#145)
"Ah you've got a sick mind Schultzy." - Dash, 'Drag Line' (#157)
"You old softie, you." - PJ, 'Settlement Postponed' (#168)
"Real mean ugly-looking man." - Fiona "Macca" McKinley, 'Secrets (Pt 1)' (#171)
"Nick Schultz is no ordinary cop. He's full of surprises." - Tony Timms, 'A Piece of Cake' (#175)
* * * * *
For more on William McInnes, take a look at william+mcinnes(dot)net.