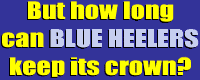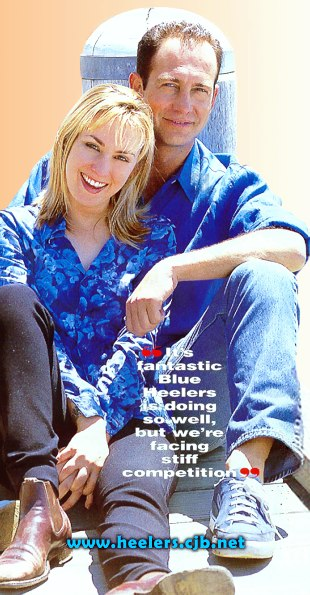 The on-screen romance of real-life friends Martin Sacks and Lisa McCune is one of the reasons for Blue Heelers' success.
IF awards are anything to go by, it's the most-watched series in the country, its characters the best-loved and its actors the biggest stars, but how long can Blue Heelers stay at the top?
Lisa McCune, one of Blue Heelers' brightest lights, is not sure.
Despite being awarded the Gold Logie, television's highest accolade, for the second year in a row, it seems Lisa is feeling the pressure.
"There are so many very, very good series on Australian TV these days," says Lisa, who also won a Silver Logie for Most Popular Actress.
"It's fantastic Blue Heelers is doing so well, but we're facing stiff competition. There's a lot of great TV and some brilliant actors.
"I think this might be the last one of these I get," she adds, clutching her second Gold Logie to her chest.
Lisa was shocked to have walked away with the top award this year, and it has to be said she was not the only one.
Although she is admired and respected by those within the industry, some felt this was not going to be her year.
Newspapers were tipping Midday host Kerri-Anne Kennerley as the hot favorite for the Gold.
After accepting her award, Lisa admitted she'd thought the same.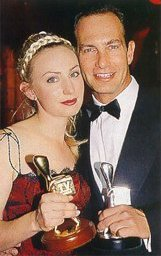 "I was seriously shocked, really," she says.
"I read the papers, too, and I honestly felt Kerri-Anne had it in the bag."
Kerri-Anne has thousands of fans and her show continues to rate through the roof, but it seems it's no match for the enduring Blue Heelers.
The series, which revolves around a group of country policemen and women, continues to attract about 2.7 million viewers every week. It was the major winner at the recent 1998 Logie Awards.
It also took out Logies for Most Popular Series and Most Popular Program and two Silvers — to Lisa, and Martin Sacks, for Most Popular Actor.
It was the second year in a row Martin, who plays Lisa's on-screen love interest, has been awarded silver.
So just what is it about this series?
"There are a couple of things, but mainly it's the characters," says supervising producer Gus Howard.
"They are real and true. They can be put through a variety of human and high-pressure situations which allows the audience to understand what they are about."
He said, thanks to the realism, the audience can relate to the characters easily.
Add to that good scripts, top subject matter, a thoroughly modern style and racy pace and you have a winning combination.
Can it last? Gus seems to think so.
"Obviously there's no point in talking about it going for 100 years, but I do believe it will run on for many a year," he says firmly.
"Other shows have run for 20 years and that's a long time. The possibility exists that Blue Heelers will go on for that long, too.
"How long exactly we don't know, but it will continue for some time yet."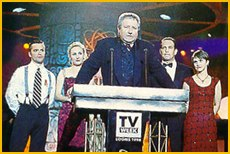 Led by John Wood, the Blue Heelers team accept the show's Most Popular Series Logie Award for 1998.
He may be right. The series shows no signs of losing fans and the characters continue to evolve and develop. Gus says the show's storylines will become even more interesting and innovative.
"Several of the characters will be faced with personal crises," he says.
"They are going to be challenged in many ways and I think, for the viewers anyway, it's going to be a lot of fun."
Kelly Baker
---
[ ARTICLE EXCERPT ]



Lisa McCune and Tasma Walton (above) play constables Maggie Doyle and Dash McKinley on the show.
Chris Riley (Julie Nihill, right) faces an attacker. Strong storylines are one of the ingredients that help Blue Heelers remain popular.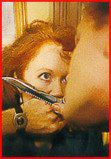 Blue Heelers first wedding — the marriage of Constable Adam Cooper (Damian Walshe-Howling) and Stacey Norse (Kate Atkinson).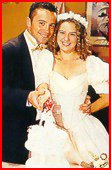 Blue Heelers fans waited years (right) for P.J. and Maggie's first on-screen kiss.

The silent, but strong Senior Constable Nick Schultz, is played by William McInnes.

P.J. (Martin Sacks) and Tom Croydon (John Wood) in another dramatic Mount Thomas scene.