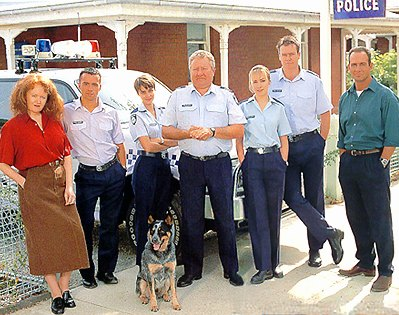 AFTER 150 episodes, you'd think the writers of Blue Heelers might be running out of good episodes for the show.
But the scripts just keep coming, and supervising producer Ric Pellizzeri says each year there are at least 40 good storylines they didn't have time to use.
"When I started this job, I was saying, 'My God, how are we going to find another 20 stories this year?'," says Rick, who started on episode 21 as a director and became producer from episode 55.
"But the more you do this, the more ideas you come up with."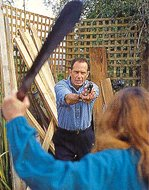 TV WEEK Gold Logie winner Lisa McCune says the steady flow of interesting storylines for her character, Constable Maggie Doyle, are what have kept her with the show after so long.
"Blue Heelers has certainly got a lot of life left in it, which is nice to know, otherwise by the 150th episode, you'd be thinking, 'Why am I staying here?'," she says.
"But I'm still absolutely happy with Blue Heelers. There's some nice stuff coming up for Maggie. It involves her family, and it involves P.J. (Martin Sacks) as well."
Lisa says she believes the show has improved markedly. "With the two new characters (Dash, played by Tasma Walton, and Adam, played by Damian Walshe-Howling), we have grown, and everything's got a lot smoother," she says.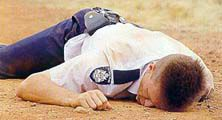 "We're in a position now, unlike newer shows, where we can experiment a bit and do some different things."
Ric agrees the show has changed a lot since it started in February 1994.
"What we've done mainly is deepened all the characters. They're much more multi-dimensional, and the relationships between them have been built up.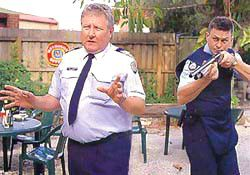 "I see TV as being like a friendship for the viewers, and like any friendship, it has to become more interesting and more layered as it goes on, otherwise it becomes boring.
"All our regular characters are strong, humane individuals," Ric says. "I think the public likes that. The thing that works for us is that you can rely and trust our guys.
"If you turned to Blue Heelers and everyone was fighting with each other, then it becomes a different sort of show.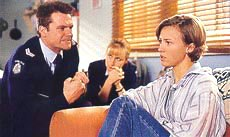 "We want the audience to feel good and enjoy watching it, to know that these are all good coppers who would look after you."
Ric also feels there is no need to have a regular villain on the show.
"We deal with crime every week," he says. "Each episode features characters who rob or kill or rape. Because of that, our core people have to be moral characters who people can identify with."
Ric says he still feels excited about his work. "The thing that's great is that no week's the same — in fact, no day's the same," he says.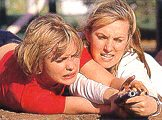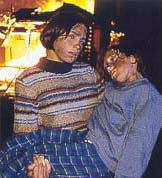 Maggie (above, left) grapples with an armed woman and Dash (left) rescues a child from a fire. On a cheerier note, Adam and Stacey celebrate their wedding (above).
"My favorite part of the week is every Friday when I sit down and watch the director's cut."
Senior cast member John Wood says he, too, still gets up most Monday mornings eager to get to the studio.
"Over all, what I have to say about Blue Heelers is how consistently good the work has been and how consistently enjoyable it's been to come to work," John says.
There was one stage, however, when John nearly had to quit the show because he was suffering agonising pain due to a ruptured disc in his back.
"I staggered through the last six months of that year," he says. "I got to the point where I thought I might not be able to work again."
Surgery fixed the problem, which John says is the same one Melbourne AFL footballer Gary Lyon is suffering.
"I must try to get in touch with Gary to let him know he's going to be all right," says John, who is a big AFL fan and has been a member of the Hawthorn Football Club for many years.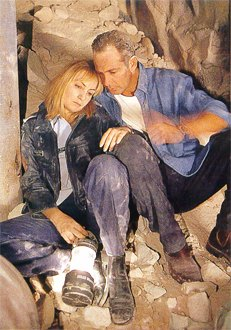 John says reports that the cast of Blue Heelers — himself, Lisa McCune, Martin Sacks, William McInnes, Damian Walshe-Howling, Julie Nihill and Tasma Walton — are great friends is really true.
"We've been in each other's pockets for a very long time," he says. "We get into that studio and there's no escaping each other, so it would be a nightmare if we didn't get on.
"A lot of people don't believe this, but it's true. At the (TV WEEK) Logies this year, we got up and said we'd like to thank the crew and say what a wonderful time we all had together, and I'm sure a lot of cynics in the audience were saying, 'Oh yeah, bull—-'.
"But we really are a very close-knit family on Blue Heelers."
John does, however, have one gripe about the cast.
"I'm sick of being the oldest person in the room!" the 50-year-old says.
"I don't feel old, and I don't think I look particularly old, but the age difference between me and the others is quite considerable.
---
[ ARTICLE EXCERPT ]
COP THESE FACTS AND FIGURES!
MAKING an ongoing hit show such as Blue Heelers is a huge undertaking.
Producer Ric Pellizzeri says what the viewers see, "is like the tip of the iceberg — nine-tenths of it is hidden". So here are some little-known facts about the making of Blue Heelers:

There are 42 episodes a year, and each one has 50 scenes. One episode is made a week. The scripts are written to a formula, which allows one day for rehearsal, two days on location and two days in the studio.

Apart from the seven regular cast members, the show employs 4300 guest actors a year, plus 30 extras a week. A total of 150 people are employed to work on the show each week, including cast, crew, wardrobe, publicity people and writers.

Episodes are shot seven weeks in advance, and at any one time there are 16 episodes in various stages from storylines to post-production, plus seven episodes waiting to screen.
---
"Tasma and Damian are younger than my eldest daughter, Meg, and Lisa is the same age. I love it when an older guest star comes on to the show!"
John says his favorite scenes on Blue Heelers have involved his character, Sgt Tom Croydon, interacting with his screen daughters, Susan (Beth Buchanan) and Anna (Ally Sangster).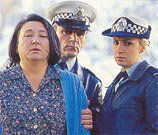 "In a way it reflects my real life with my own daughters. So that's what I enjoy on screen, but that's not necessarily what the audience want to see more of," he says.
"By the same token, I don't believe they want to watch Maggie and P.J. all the time either."
Maggie and P.J. consummated a long flirtation recently when they were trapped in a mine shaft.
"What's going to happen now with them?" John asks.
"Something has to happen — it's frustrating for the viewers."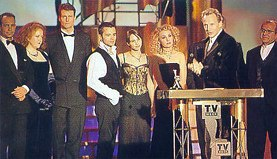 John has penned three scripts for Blue Heelers. But he says he won't write another.
"It's too hard. You see every (script) cut and every one's like an injury. You're trapped into seeing exactly what they do to your script."

Blue Heelers' 150th episode screens on the Seven/Prime networks (and SCT in Tasmania) on Tuesday, July 9 at 8.30pm.
Carol James